After the End by Amy Plum, reviewed by Bronte
Publisher: HarperTeen
Pages: 352
World War III has left the world ravaged by nuclear radiation. A lucky few escaped to the Alaskan wilderness. They've survived for the last thirty years by living off the land, being one with nature, and hiding from whoever else might still be out there.
At least, this is what Juneau has been told her entire life.

Now Juneau is adrift in a modern-day world she never knew existed. But while she's trying to find a way to rescue her friends and family, someone else is looking for her. Someone who knows the extraordinary truth about the secrets of her past. (Goodreads)
Who should read this book?
People who love dystopian with a twist and if you enjoyed Plums
Die for Me
series. I would say it is for readers 13+.
Star Rating: 4 Stars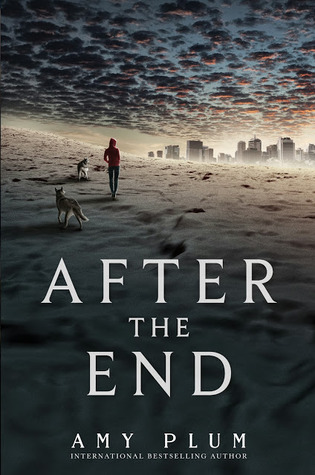 Question 1. What character would you most like to have tea with?
Probably Juneau's father as I feel that I would be able to get some answers. This book ends with the reader still questioning just about everything and that for me is so annoying! In a good way - I can't wait for the next book.
Question 2. What character would you most like to throw tea at?
Miles. Although he is quite an interesting character, he does have serious trust issues which I found to be frustrating at the beginning. However, I can see why he might have issues which Juneau's stories, but he could have been kinder to her.
Question 3. What do you think of the cover?
I quite like this cover - it isn't as bright or intricate as the Revenants covers but I like the simplicity and boldness of it. You can easily see why Juneau was intimidated by the modern world we live in.
Question 4. Can you read the tea leaves from the beginning or are there twists in the plot?
I think this plot takes multiple twist and turns and it was not obvious what was going to happen - nor was it easy to predict how it ended! It is very much unlike your average dystopian which I liked.
Question 5. Favourite quote!
"I'm lying here in a tent, pretending to be asleep but actually fearing for my life as I watch a bunny murderer have a conversation with our campfire."
- There were lots of funny quotes like this all the way through as Miles struggled to contemplate what on earth was happening!
Overall I thought this book was really good. It was unlike most dystopians and the plot was unpredictable. I think that Plum did a really good job, as the Die for Me series was so good, writing something equally as amazing is a trait of a great author. The ending was a little frustrating as I felt that although the plot is good, I wonder if it can be stretched across two novels - so I am expecting something extravagant to happen at the start of book two. Overall though I liked it a lot and am looking forward to the next!
What did you think of this book? What would you like us to review next?