Bright Before Sunrise by Tiffany Schmidt, reviewed by Bronte
Publisher: Walker Childrens
Pages: 288
When Jonah is forced to move from Hamilton to Cross Pointe for the second half of his senior year, "miserable" doesn't even begin to cover it. He feels like the doggy-bag from his mother's first marriage and everything else about her new life—with a new husband, new home and a new baby—is an upgrade. The people at Cross Pointe High School are pretentious and privileged—and worst of all is Brighton Waterford, the embodiment of all things superficial and popular. Jonah's girlfriend, Carly, is his last tie to what feels real... until she breaks up with him.
For Brighton, every day is a gauntlet of demands and expectations. Since her father died, she's relied on one coping method: smile big and pretend to be fine. It may have kept her family together, but she has no clue how to handle how she's really feeling. Today is the anniversary of his death and cracks are beginning to show. The last thing she needs is the new kid telling her how much he dislikes her for no reason she can understand. She's determined to change his mind, and when they're stuck together for the night, she finally gets her chance. (
Goodreads)
Who should read this book?
Star Rating: 4 Stars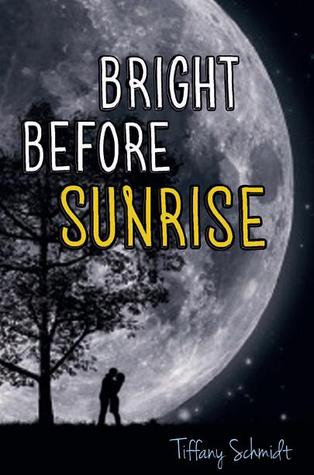 Question 1. What character would you most like to have tea with?
This maybe weird, but I think that I would most like to have tea with Brighton's father. From what I read he sounded like a really nice, kind, lovely caring person who would be really easy to just talk to. (Although I don't mean "nice"...how about great...inside joke)
Question 2. What character would you most like to throw tea at?
Potentially everyone at some point...Brighton for being such a 'teflon' person, Jonah for being so mean at the beginning, his Mum for changing, Paul for being so horrible to Johan...but anyway. I can only pick one which would have to be Paul as he is consistently horrible whereas the others all change to some degree.
Question 3. What do you think of the cover?
I think this cover is so cute! It was actually what drew me in to read it in the first place - and then when I realised Schmidt had written it, it became top on my list of books to read next.
Question 4. What do you think of the title do you think there is an alternative?
This title made no sense to me before I read the book! Only after I finish the book did I realise: Brighton is her name (Bright is her nickname) and we see her personality change at night, before the sun has risen. I think it is the perfect title because it makes me want to read more to understand!
Question 5. Favourite quote!
'One night with Jonah and I've morphed from Teflon to something that reacts when scratched...a record or a match."
We all know how much I enjoyed Send me a Sign so it is difficult for Schmidt to beat it; maybe its because I finished the book yesterday and I'm still basking in the post book enjoyment period, but I think I almost enjoyed this book more! I think again, however, Schmidt rushed the ending slightly more than was necessary, but I do understand that as a 300 paged book that covers a 12 hour period, it does have to end somewhere. I would have perhaps liked to see Brighton and Jonah develop their relationship a bit more though. Overall, great book and I can't wait to read more from Tiffany Schmidt if they keep getting better!
What did you think of this book? What would you like us to review next?